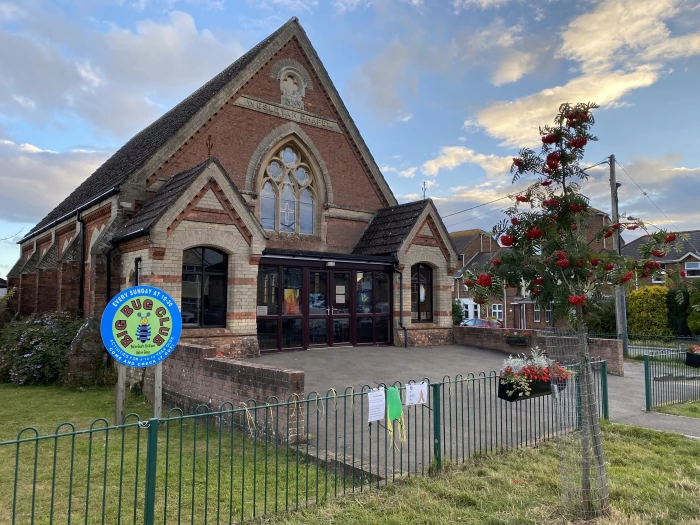 Upton is on the edge of the Poole and Bournemouth conurbation and manages to combine
an urban area of a population of 8500 with access to both the inner harbour and
countryside. Upton Methodist Church is on the western side of the 'town' close to the local
schools. Methodist have been meeting in the area since 1789; the current chapel was
opened in 1865 and has since been extended and modernised. It is fortunate to have a
large, enclosed garden.
The age of our congregation ranges from a year old to over ninety! We not only meet on a
Sunday morning for worship but have a Café on a Wednesday morning with opportunities to
both socialize and have a short time for prayer and reflection with out Refresh group. A
women's group, bible study group, book group and walking group meet regularly.
We particularly welcome children to our church with our Big Bug Club on a Sunday morning.
The church manages an Ofsted registered Preschool and a Toddler Group. Messy Church
and Daisy Chains, a group for children and families with special needs, meets during the
school holidays.
Vision, Mission and Commitment Statement
To be a welcoming church family that demonstrates the love of God to each other and to our community.
We will worship and pray regularly and endeavour to make our worship and prayers acceptable to God and meaningful to our community.
We will consider and try different forms of worship and encourage active participation.
We will organise and provide opportunities to study the word of God and to deepen our fellowship.
We resolve to bring a knowledge of God's love to all in our community.
We will strive to serve the whole of our community in Upton from the youngest to the oldest.
We commit to continuing our work with the young through our Parent and Toddler club (Noah's Ark), our Pre-school, our BIG BUG Club, our Brownie pack, Daisy Chain and holiday club (currently Doughnut Tree).
We will support our ministers in their work of bringing a knowledge of God's love to our local schools.
We commit to provide Café Church, giving an opportunity for outreach and service.
We will continue to administer the Ballam Trust for the benefit of the needy in Upton and Lytchett Minster.
We will continue to allow our premises to be used by the community.
We resolve to help those in need outside our local community by actively supporting such organisations as Poole Food Bank, Traidcraft, Shelter, Action for Children (NCH), "All We Can" (MRDF), MHA etc.
Upton Methodist Church use the following resources:
Singing the Faith
Hymns & Psalms
Mission Praise